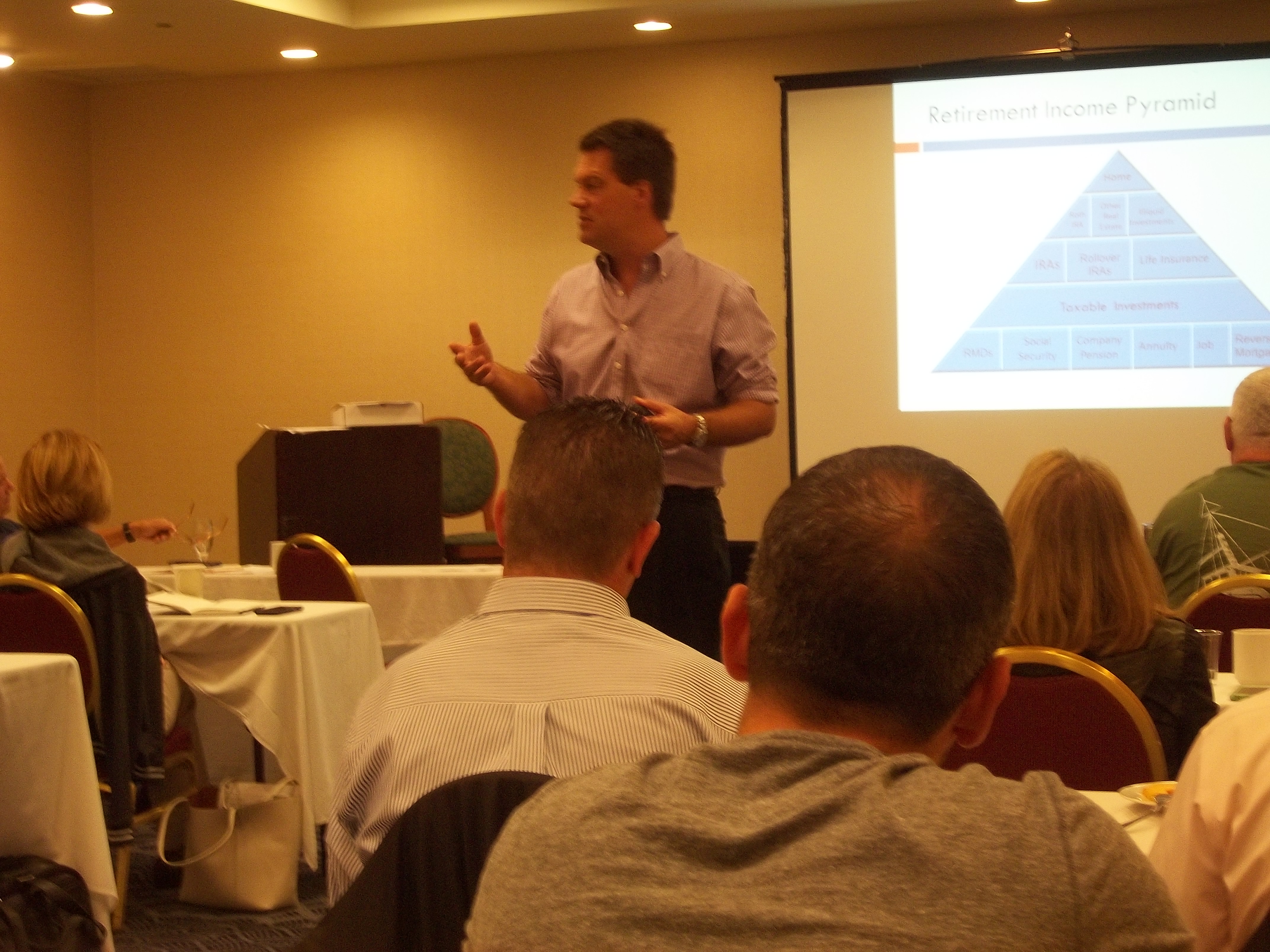 You've done everything right as a financial advisor: You've stayed in touch; reviewed and discussed short, mid and long-term goals, did a risk tolerance survey, made appropriate adjustments to a balanced portfolio along the way; and then BAM!   2016 rolls and the stock market drops, oil prices plummet, China's in trouble, European Banks falter and Donald trump and Bernie Sanders lead the polls!!!!
And you may have a client or several that may say: "It's the Fed's fault, it's Obama's fault, human sacrifice, cats and dogs living together, climate change, etc.!  What are YOU as my financial advisor going to do about it?  What am I paying you for?  DO SOMETHING!"
What do you do? No matter how much you reassure them that they will be fine, that you have it under control, they insist you do something, anything, NOW.
You tell your clients, in a nice way, to settle down and try to maintain perspective and stick with the financial plan and investment strategy that you have laid out for them.  Market volatility is normal, even healthy and the markets will be OK in the long run.  Your clients may not be happy with this explanation so you can have them "A Tale of 4 Decades 1975-1995" (see below) which was written by one our advisors (Doug Buchan) here at Main Street Financial Solutions, LLC.
Doug's unofficial title at our firm is "Chief Optimist Officer" for his belief that free markets and democracy will continue the creation of wealth in our country and around the world.  His article really puts things into perspective and allows us to realize things are not as bad as we may think (mostly because there have ALWAYS been bad things going on over the past 40 years).  He sent this to his clients recently and received a very positive response.   Enjoy!  (By the way, anyone interested in working with Doug as an advisor please give me a call and I will get him in touch with you). 
A Tale of Four Decades 1975 - 2015
I think it's a fair assumption that the 41 years from 1975 through 2015 cover the great bulk of the investing lifetimes of almost all of my clients.  As this year comes to a close, I thought we might take a look at some arbitrarily selected population, GDP, earnings and dividend statistics for five observation points during this period, namely the years ending in 5.  Along the way, for additional perspective, we'll look at some events that alternatively befell and uplifted us in each of these landmark years. 
1975
Saigon falls; President Ford escapes two assassination attempts within seventeen days.  Margaret Thatcher becomes the first woman leader of Britain's Conservative Party.  Inflation takes a bite out of the economy as the CPI rises 12.2%.  Saturday Night Live debuts on October 11th.  An American and a Soviet spacecraft link up in space:  the event is memorialized on a beautiful ten-cent U.S. Postage stamp.
Global Population:  4.1 billion, 50% of whom live in extreme poverty, as defined.
U.S. population:  216 million
U.S. Real GDP:   $5.49 trillion
S&P 500 Year-end close:  90.19
Earnings per Share:  $7.71 
Dividends per Share:  $3.73
1985
Gorbachev comes to power in the Soviet Union, and meets with President Reagan.  The Internet domain name system is created.  Windows 1.0 is published (Microsoft's Valuation stands at about $300 million and is not yet public), and the first successful human heart transplant takes place.  With increased attention to the poverty in Africa and the Middle East, the song of the year is "We Are the World."  In the greatest marketing catastrophe since the Edsel, the Coca-Cola Company replaces Original Coke with the New Coke.  A first class stamp costs twenty-two cents.
Global Population:  4.85 billion
U.S. population:  238 million
U.S. Real GDP:   $7.71 trillion
S&P 500 Year-end close:  211.28
Earnings:  $15.68 
Dividend:  $8.20 
1995
The Oklahoma City bombing is the greatest domestic terrorist atrocity in American history.  O.J. Simpson's murder trial begins and ends ten months later in his acquittal, as racial tensions intensify.  Israeli Prime Minister Yitzhak Rabin is assassinated.  The Rock and Roll Hall of Fame opens in Cleveland.  Jerry Garcia and Mickey Mantle die the same week. A postage stamp costs thirty-two cents.
Global Population:  5.7 billion
U.S. population:  266 million
U.S. Real GDP:  $10.28 trillion
S&P 500 Year-end close:   615.93
Earnings:  $37.70 
Dividend:  $14.17 
2005
Hurricane Katrina devastates an American land mass larger than Great Britain.  Saddam Hussein goes on trial for his life.  July 7th becomes London's 9/11, as coordinated attacks on the bus and subway system claim 52 lives.  Pope John Paul II dies.  A postage stamp costs thirty seven cents. 
Global Population:  6.5 billion, but by the turn of the century, the rate of extreme poverty has fallen to one person in three. 
U.S. population:  296 million
U.S. Real GDP:   $14.37 trillion
S&P 500 Year-end close:  1,248.29
Earnings:  $76.45 
Dividend:  $22.38
2015
A radical Islamic faction, ISIS, casts the Middle East into chaos, and carries out terrorist atrocities in Paris and elsewhere.  Refugees pour into Europe.  The world's leading nations reach an accord with Iran on its nuclear development program. Microsoft releases Windows 10.0 (its market cap exceeds $430 billion); Yogi Berra dies.  A postage stamp now costs forty-nine cents. 
Global Population:  7.29 billion, less than one in ten of whom live in extreme poverty, as defined.
U.S. population:  322 million
U.S. Real GDP:   $16.39 trillion
S&P 500 Year-end close: 2,060
Earnings:  $118
Dividend:  $43
A Tale of Four Decades Said Another Way:
Global population up nearly 80%, with extreme poverty slashed from one human in two, to one in ten, creating wave upon wave of new middle class consumers.
U.S. population up by 50% and gaining a new person (through net births and migration) every 14 seconds.   And before this concerns you that we are getting over-populated as a country, we have almost unimaginable room to grow:  population density per square mile in this country is 85, compared with almost 300 in France, 590 in Germany, 680 in the UK and 870 in Japan.  Staggering natural resources, with mineral rights vested in the landowner.  A hundred years' worth of hydrocarbon energy reserves...
Real GDP more than tripled, on only a 50% population increase - meaning Real GDP per capita has soared.
The S&P 500 rose more than 20 times, which makes sense as earnings increased in excess of 15 times and dividends increased almost 12 times. 

Far more significantly, these gains must be measured against an increase in the general level of consumer prices, which rose by about four-and-a-half times.  20 times increase in investment vs 4 and a half times increase in costs; a monster accretion of wealth for anyone able to stay invested. 
What are the megatrends underpinning this spectacular economic and financial progress?  Well, I believe there are two:
1) The continued spread of the free market, as democracy and liberty vanquished communism and the most extreme iterations of socialism during this period, and
2) The exponential progress in information technology.  Today, my 11 year old daughter carries in her backpack a smartphone with more computing power than the state-of-the-art mainframe had in 1975. This cycle continues. 
As the years move forward and garden-variety corrections and bear markets ebb and flow, I'll encourage you to take another read of this, as taking a long look back may help you take a long look forward.  And the long view of investing and maintaining the cardinal principles of successful investing - that is faith, patience and discipline - is simply the best way to achieve the financial freedom and the peace, dignity and independence you deserve.
Source: Brett Danko/Doug Buchan