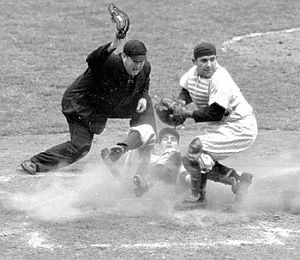 Allow me to go off-topic for a post.  I've been busy teaching this week but I didn't want the week to go by without acknowledging the passing of Yogi Berra.
Those of you that know me know that I am a huge baseball fan.  I love the game, but I especially admire the tradition, history, old ballparks, and amazing athletes (and characters) from all the teams that graced the game throughout the decades.  Yogi was certainly one of them.
Yogi Berra will be missed. Not only was Yogi arguably baseball's greatest catcher, he also made Mark Twain look like an amateur linguist. My favorite alleged "Yogi-ism" occurred when he was a player and was out to dinner after a game and ordered an entire pizza for himself. The server asked if he wanted the pizza pie cut in four or eight slices. Yogi deadpanned: "Four slices, please; I don't think I can eat eight". I love that story!!
Thank you, Yogi, for the great play and for the colorful quotes.  You made the game interesting.
And thank you all for humoring me.  Hope you have a great weekend.
Brett